Meet Manuela: Project Manager & Interior Design Guru at WtR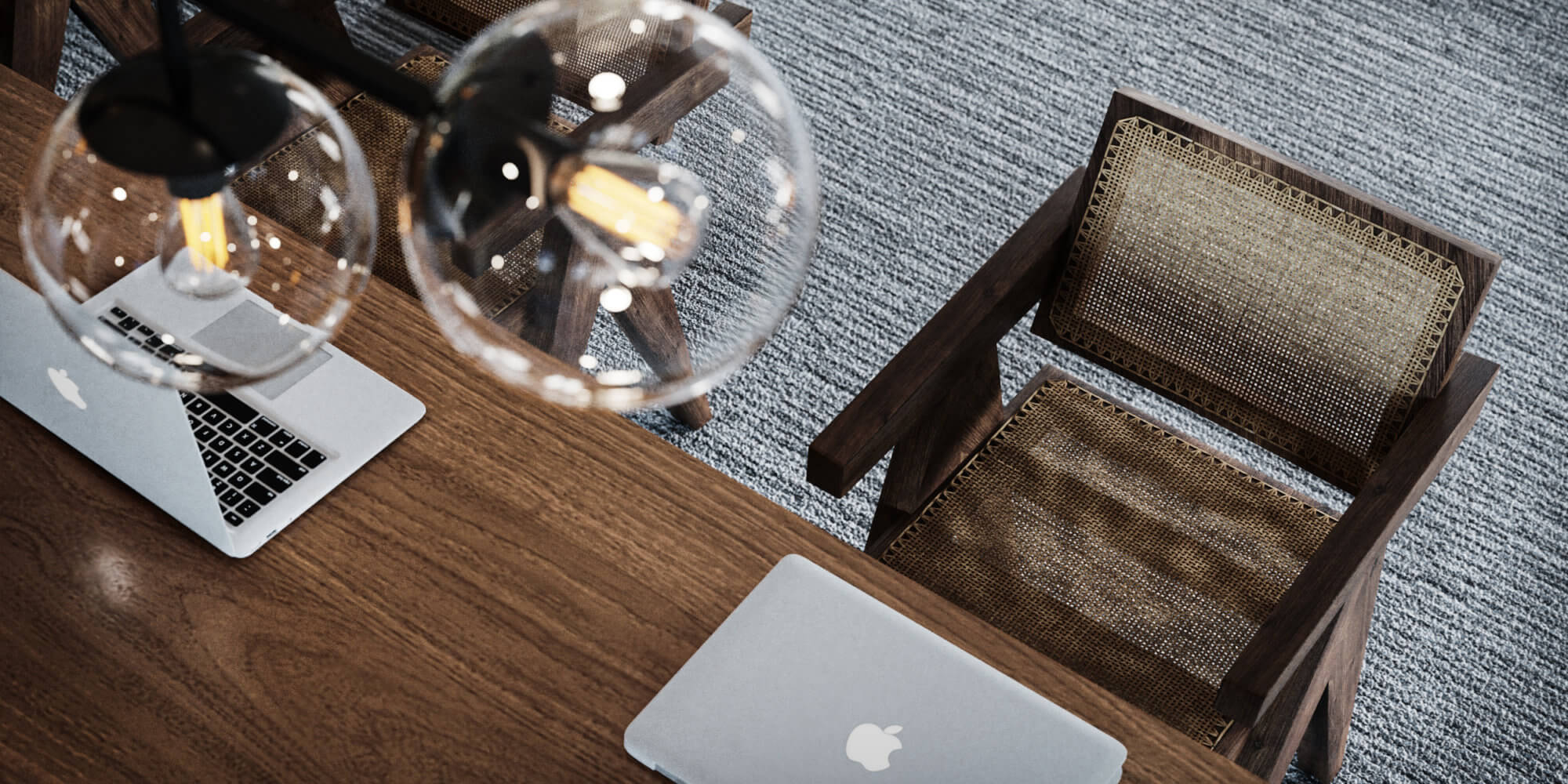 Meet Manuela: Project Manager & Interior Design Guru at WtR
Ever wondered what goes on behind the scenes when it comes to producing architectural visualizations? You've come to the right place! We sat down with Manuela, to discuss the process of creating interior design concepts.
Could you tell us a bit about yourself and your journey at Walk the Room?
I started at WtR about five years ago, when it was a much smaller company. There were about 15 of us in total. I was hired as a Production Assistant when I started, so I did a bit of everything from office management to find props and 3D characters. Eventually I grew into a Project Manager position.
I studied architecture and urbanism at university in Argentina, which was a master field of study including everything from urban planning to building to interiors. But when I moved to Sweden, I realized I really like interiors, so I started focusing on that and Scandinavian design. That's actually the reason I moved to Sweden in the first place – I wanted to work with Scandinavian design. I never really thought I'd get this passion for interiors, but I've found myself here and it makes me really happy.
Can you guide us through the client process once you get a project?
We have a kickoff call to get to know the client and so the client can get to know the team. That's usually between project managers and the art team. We find out what the client's needs are, what the goal is, and how the project will showcase what's most important for them. We investigate if we're missing anything. For example, especially for interior finishes, we might be missing info regarding the flooring or ceiling. We have a stage zero team that takes the model and makes sure it all works. If we need to do a site visit, someone goes and takes measurements, pictures, and whatever else we need.
The model is handed over from the modeling team to the artists and the work begins. Sometimes we have live sessions. If the space is complex, the client might need guidance on what to show in each image. The artist shares their screen and moves around and tries to find the right angle for what the client wants to see and show.
Then we have the stage one delivery. We try to make this as advanced as we can, implementing all the correct furniture, materials, and lighting. The most important thing is to ensure that the lighting and the mood of the image are set. If there is time, we try to present it with people already at this stage.
In stage two the client has a review. Some clients like to have a digital meeting where we review all their comments together. This really depends on the scale of the project. If it's a big project, sometimes it's better to have a feedback call with the client, so we can go through it together, and if they have any questions, we can answer them right away. Other times the client just uses Filestage – a platform we use to collaborate, exchange feedback, and approve assets with our clients –  after they've reviewed the images with their own team. Next, we deliver the final assets, sometimes there are small things that need adjusting in Photoshop, but we always aim for this delivery to be final.
What's special about how Walk the Room works with interior design?
Sometimes we receive mood boards, but sometimes there is no architect or interior design involved, and the client wants us to present something in a style that will best showcase their unique features. What's special, to me, about Walk the Room is that we really stay updated on trends and we're really designed-focused. We think about everything from the whole concept to the color matching of an image to the little props that make the image come together. We look at references, keep up to date on what's trending in design magazines and blogs, and constantly come up with new concepts. We also have a vast library of furniture that is always being updated based on styles, trends, locations, and materials. We also model and create a lot of things ourselves rather than downloading them from providers of 3D models. We have a lot of customized furniture and pieces in our asset library.
The 3D world is amazing because when there's no budget, there are no limits. You can implement the best of the best when it comes to furniture and really take into account the country and region the project is located in and the different styles that are appealing there. We have a lot of different styles, so we focus on how the interiors would look in a particular region, and match that while also staying creative. We get very creative with interiors and keep things varied. We try out different types of desks, different types of functions, things that will attract people to the office, which has been especially important during the pandemic. When more people work from home, we need to up our game and present images that have an incredibly strong design to sell the space.
How do you go about creating or working with clients on mood boards and concept templates?
First, I review or find out what the client's preferences or usual style is. It's also important to know where the project will be located. There's a strong design aspect in Sweden, for example. Each project needs to look great in pictures, of course, but it also needs to be styled with the right furniture that people recognize. A project in the UK or the US would look totally different.
I work a lot with Pinterest and different blogs or magazines to find scenes, details, and angles to play with as well as products that are fashionable. If it's a residential project, we need to make sure we've implemented products that the audience would buy for their home and also that it's in stock if they wanted to access a particular piece themselves. That's another reason why it's so important to stay up to date with the latest trends. And this isn't about copying ideas from magazines, it's about getting inspiration, staying up to date, and then creating new combinations. That's the best part for me – playing around with information and styles that I find and putting it all together in the way that best suits the client's needs.
How do you guide the client through the process of deciding on an interior design?
Sometimes there's an architect involved and there's already a concept. Sometimes it might be a client we know, so we have previous projects to use as a reference and already know what style and furniture pieces they like to see. Then we experiment and play around with what we know about the client and what they want while also keeping it fresh and differentiated from past projects.
When it's a new client they've already seen references from the sales team and know what kind of concepts they can expect from us. We work hard to establish trust in those initial meetings when we find out what they're looking for. Communication is really important, and these discussions ensure that when we present the mood board it reflects what they wanted. Once we understand where the project is located, what type of project it is, what the target group is, we can discuss different directions and get started on coming up with a concept.
How does this change when we work on multiple projects with a client? Do they usually have favorite pieces of furniture or styles?
When we work on multiple projects with a client we can really learn what they like and make each delivery better than the last. We learn what color palettes they prefer, whether they prefer Scandinavian design, or whether they are into more trendy or classic styles.  This is a great starting point and helps us decide on furniture and materials, rough wood or oak, for example. Should we go traditional and upscale or young and fresh? Once we know that it's very easy to find new pieces of furniture in that same vein. It's like a safeguard when you already know what a client likes, and they also know that they'll receive something that reflects what they like, but that we'll present a range within that area.
How do you decide on the best angles for detail shots?
One of the best things to do is to constantly look at architecture photographs for inspiration. We can get a lot of great references like that, which are useful for client discussions. And of course, we discuss what's really valuable to the target audience with the client. A coffee cup on a table might look great from above and be useful for the client website, but when it comes to selling the space a workstation detail  might be more important. We try to find the balance between delivering something creative and artistic like an interior design image and another unique feature that details the potential of the space.
What are the most important aspects of an interior render?
The most important thing is to showcase the space and its best assets and potential. How can it be furnished? What colors would show it at its best? How can we utilize lighting? How can we make it come alive? It's about showing the unshowable. Presenting what the space could be without the investment of actually designing it in that way. This allows the potential tenant to see everything they could do. They could design it like this, they could fit in this amount of people, they could imagine it branded for their company. It's a tool that helps the client "sell" the space.
What do you enjoy most about your job?
It's the creative part of it and having variation in projects – offices, retail, residential, cafes – it's so fun to go through vastly different spaces. Also, having no budget for interior design is really a dream. Any piece of furniture I dream about can be implemented into the design. I never hear that we can't use that because it's too expensive. Nothing is impossible and that's so fun. It allows your creativity to go wild. It's way different than if we actually had to buy the furniture and keep to a certain budget.
What are some of the projects you've really enjoyed working on?
It's always really fun to work on TOG (The Office Group) projects because there are always new trends from other countries and architects, but they usually bring the concept to us. They are really detail-oriented and the level is really high. That's why I like them personally. The results are always stunning.

When it comes to our concepts, I really like the projects we've worked on with Enka. They're being built now, so we'll actually see our impact because we aren't only doing the CGIs. We've been a consultant on the concept stage. We delivered 360s and furniture specifications. We custom made a lot of furniture for the space. The colors are fun, there was a lot of creative freedom. I can't wait to see how it turns out.
Tell us a little about your life outside of Walk the Room. What do you do for fun besides reading interior design and architecture magazines?
I'm really a winter person – it's my favorite season. I love skiing and snowboarding. I've always been into those sports since I was a child. It's my passion to be in the snow. There are so many frozen lakes and places you can reach with ice skates in Sweden. There's a big culture of people who like to grab their skates and find these lakes in the winter, and that's really great to me.
We hope you enjoyed getting to know Manuela. If you'd like to learn more about how we could help with your interior design concepts, reach out at any time. We'd love to discuss it!