ARC Uxbridge: A best-in-class office and lab campus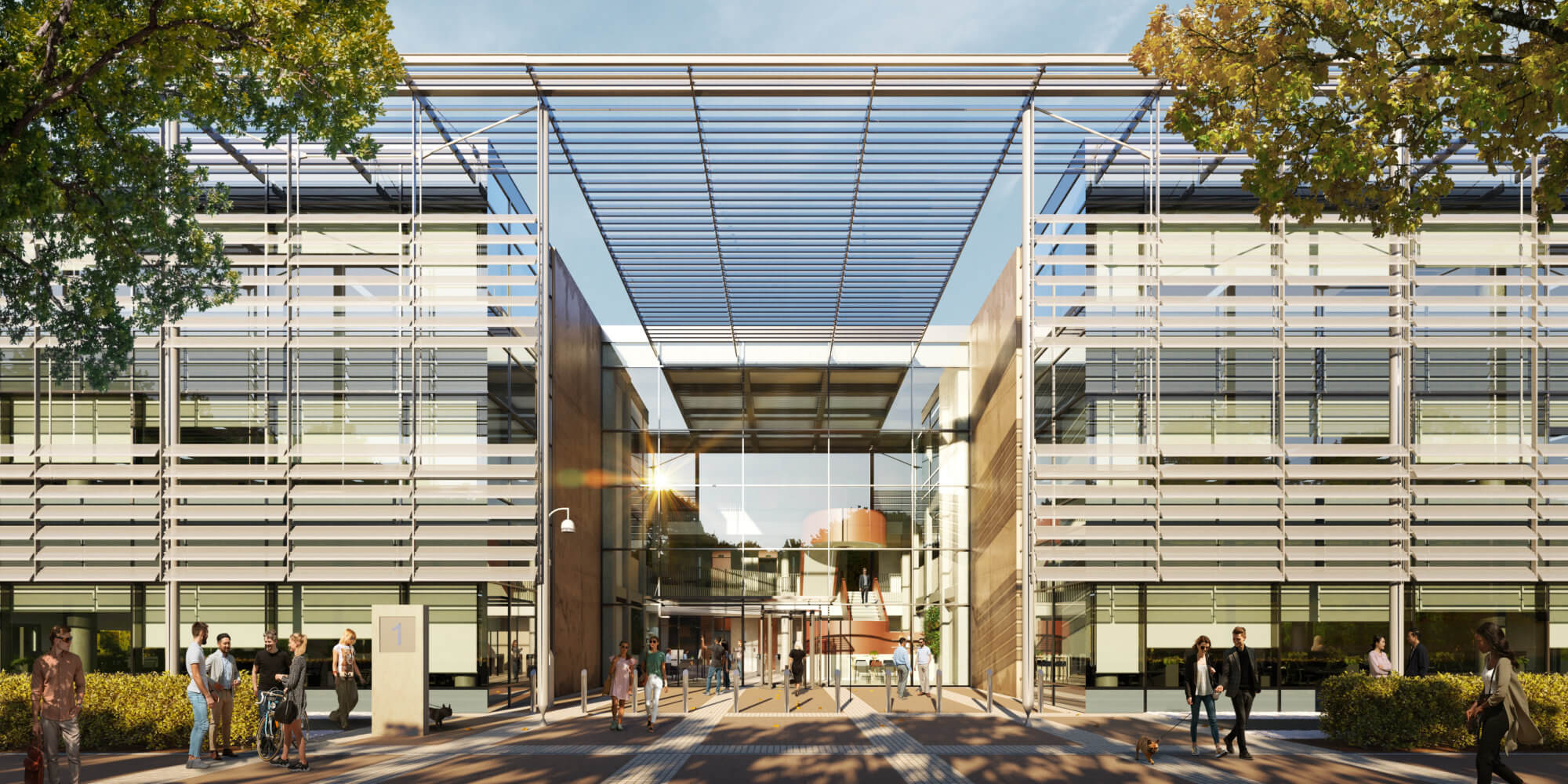 ARC Uxbridge: A best-in-class office and lab campus
ARC Uxbridge is a leading business and innovation campus offering best-in-class office and lab space with easy access to London and Uxbridge town center. Set in 70 acres of parkland amidst a thriving community of innovative businesses, Building 01 has been completely refurbished to create over 85,000 sq ft of premium office space. The light-filled premises offer views of the surrounding greenery, the thriving Clubhouse, and the Sands River. Add to that a private roof terrace with flexible spaces for having a coffee between meetings or holding an impromptu brainstorming session, and you have one of the best workspaces in the area. Read on to learn more about our client's vision and how we worked together to bring it to life.
The vision
ARC's passion is supporting science and innovation businesses to thrive. By creating an environment that encourages collaboration and fosters creativity, clusters across the ARC network create the best possible environments for innovation that makes a difference in challenges faced around the world. Home to over 300 leading science and innovation organizations as well as over 10,000 employees, ARC offers access to a growing network with a range of exclusive benefits, including events, summits, training, profile, and access to space for away days and science sprints. ARC Uxbridge is for people who want to be part of an exciting innovation platform, and the refurbishment and all marketing materials needed to reflect that.
Originally constructed in 2001 as a solely occupied building, Building 1 has been well maintained and looked after, but it reflected its time and age. The market has ultimately moved on in terms of aesthetics and sustainability, among other things. The main goal of the brief given to the architects was that the building needed to be the best in the Thames Valley – modern but maintaining the inevitable professional feel that is needed at ARC Uxbridge. Spratley and Partners were brought on to design a market-leading finish that benefits from 50 acres of greenbelt, brilliant parking ratios, and pioneering on-site amenities.
The target audience
Historically, the campus has attracted Blue Chip multi-national organizations that solely occupied their own buildings. The pandemic has led to a change in the way people work and make use of office space, however, and flexible working practices have led to potential occupiers looking for less space but still of extremely high quality. ARC recognized this quickly and has been able to make improvements and adjustments to the campus to offer more flexible space, with options to let buildings to more than one occupier, leading to a broader target market. The main focus has been to allow members desk space in Adapt (their Serviced Office Provision) to benefit from all the amenities and benefits the park has to offer. ARC Uxbridge also has a rich history of pharma company occupation, which they have grown creating a pharmaceutical cluster.
The challenge
One of the main challenges in showing the unique selling points of ARC Uxbridge is that everyone sees a campus and a car park with expansive buildings, when ARC Uxbridge is much the opposite. The marketing materials needed to show the modern, thriving campus with best-of-breed facilities that it is.
Uxbridge has fantastic parking ratios, which is of extreme importance to members, but they also own 50 acres of greenbelt at the site with trim trails, preserved habitats, and lakes (which can be fished), so 71% of the park is natural green areas that are well maintained and well used. It was important show ample space for parking without taking away from the beauty of the surrounding green areas.
The goals for the assets were very much in line with the goals of the company to support innovation and create market-leading environments and clusters to allow the people working in them to make a difference in the world. To make this happen, the goals of the design were to allow for ultimate flexibility which allows ARC to entice smaller and larger members to create a buzzing, vibrant cluster.
The partnership with WtR
To illustrate the potential of Building 01, we created 6 CGIs to showcase how the office space could be brought to life to fit the needs of different prospective tenants. We also produced an animation to show Building 01 in the context of the broader surroundings of ARC Uxbridge and the vast amenities on offer.
There was a real feel of a partnership of 'we want this to be perfect' not 'that will do'. We very much look forward to working with WtR again.
ARC reported positive feedback internally and from the agent community. They found the process of working with WtR to be "fluid, easy, and very enjoyable" and appreciated our adaptability when it came to last-minute changes. "The quality of the video is one of the best I have seen, and the CGIs look amazing in our marketing channel", stated George Wilson, Asset Manager at ARC. "There was a real feel of a partnership of 'we want this to be perfect' not 'that will do'. We very much look forward to working with WtR again."
Working with WtR
Would you like to discuss how we could help you showcase your unique project? Get in touch! We'd love to discuss your needs and how we could deliver the optimal suite of assets needed to market your commercial property.