Digital Property Marketing: 13 Details That Ensure You Stand Out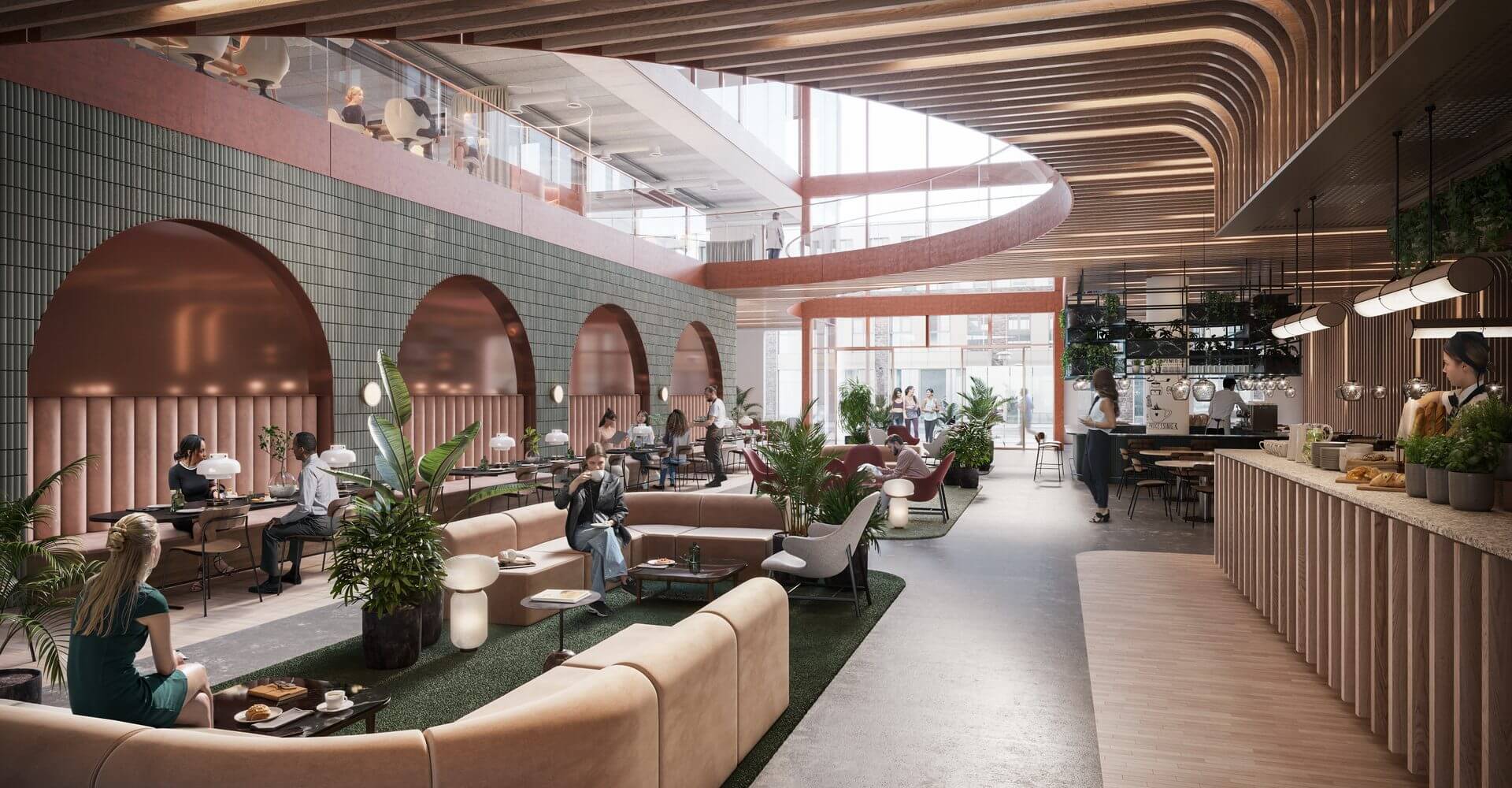 Digital Property Marketing: 13 Details That Ensure You Stand Out
Most industries have been revolutionized by digitalization, and marketing is no exception. An ever-growing amount of marketing takes place online, and brands all over the world have spent years fine-tuning how to optimize their content for digital, and small mobile screens in particular. It begs the question - are we marketing properties in outdated ways? And are there ways to improve content for digital?
Optimizing property marketing for today's audience
Google "best performing ads" on social media and a few common denominators will quickly appear. Striking colors, movement, short and catchy copy, the absence of complex information to process and digest. Google high-end commercial real estate visualizations, renders, or CGIs, and the majority of the images that come up follow a different logic, mostly displaying gorgeous, sophisticated, detailed images. This is not to say that these kinds of images and animations don't have a place, but do they effectively capture people's attention online?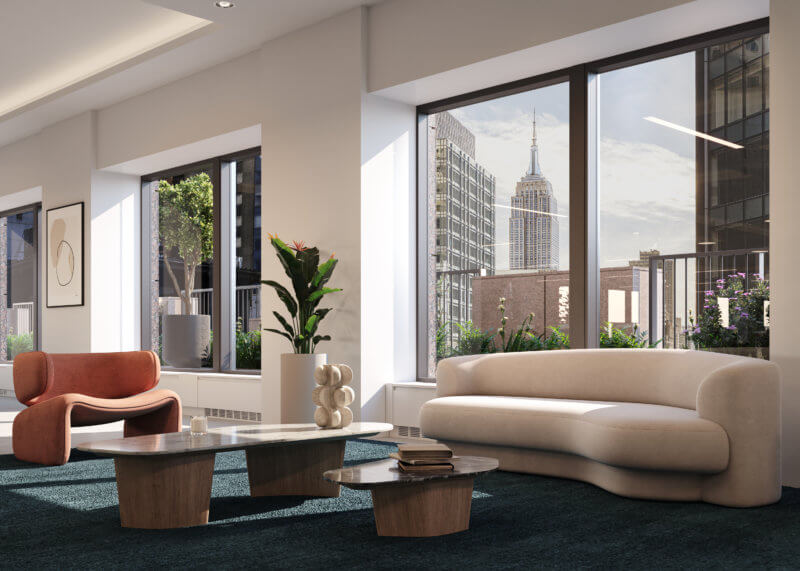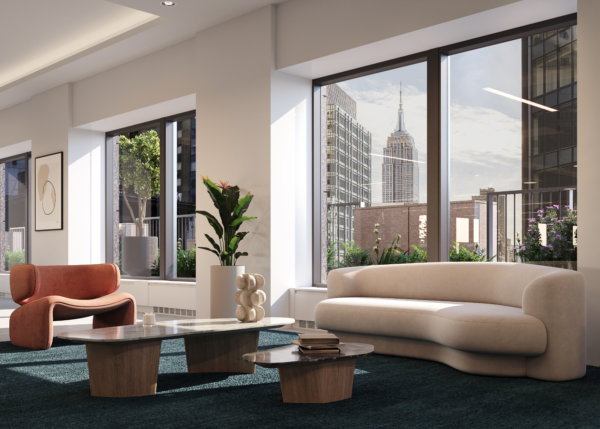 ---
B2B Marketing can still be emotion-driven
Some may argue that B2B marketing is different, less emotional, more about numbers. While there may be some truth to that, the dynamics of grabbing and holding the target audience's attention are the same – we are, after all, still human. What can be done to complement commercial property imagery created for traditional media like billboards, printed folders and large screens? Details. Zeroing in on a detail – a dining table, a view, an exercise room, or even a chair – can help you grab the viewer's attention to initiate a conversation and proceed to talking about the project as a whole.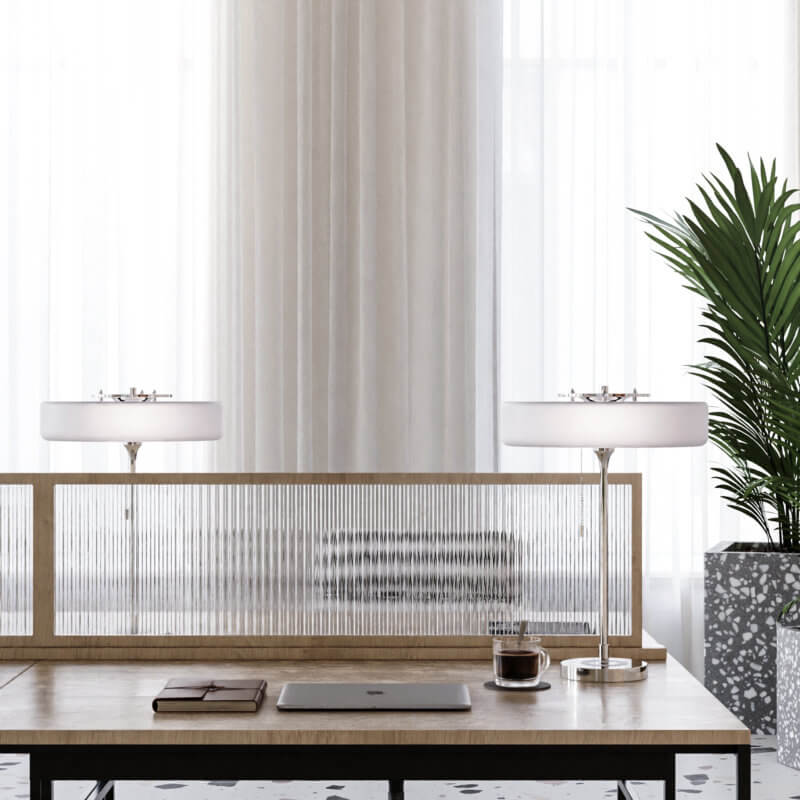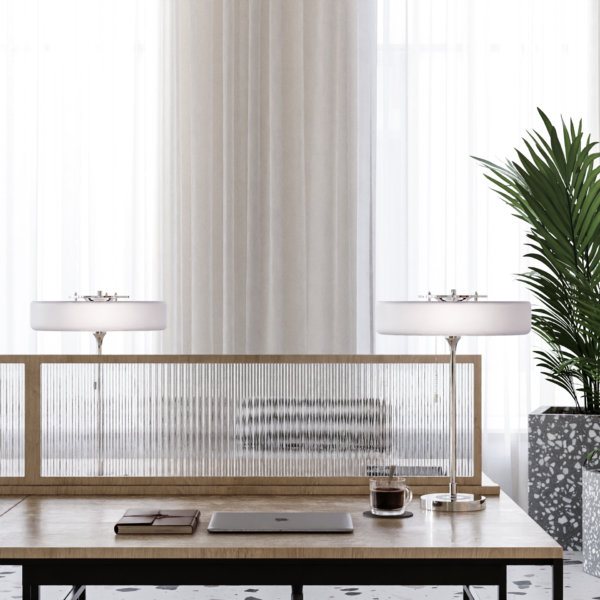 ---
Money well spent
Is it worth the extra money? Well, when the traditional images have already been created, the most expensive parts, meaning the model, the design, and the lighting have already been paid for. If the resolution is set to only work for a small format, spending that extra bit of cash can actually help increase the ROI on the visualization part of the marketing budget.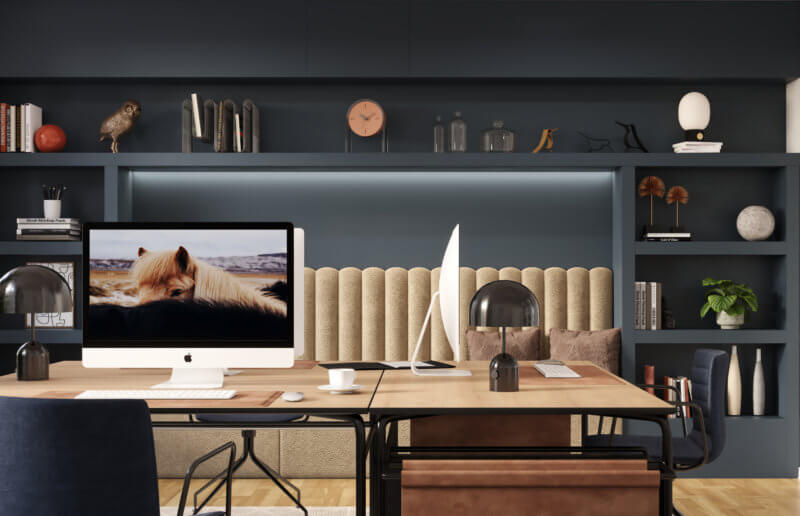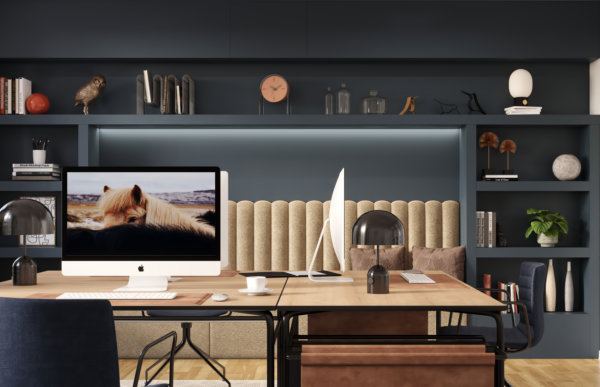 ---
It's all about the details
So why do details work? They're human scale, and they help people imagine what it would actually be like to spend time in a space. Details make the dream tangible. But all details aren't created equal, they need to stand out from the noise, and they need to speak to the viewer on an emotional level. We've compiled a list of stand-out images from projects we've worked on to showcase these 13 details for you, and to inspire you when planning your next project.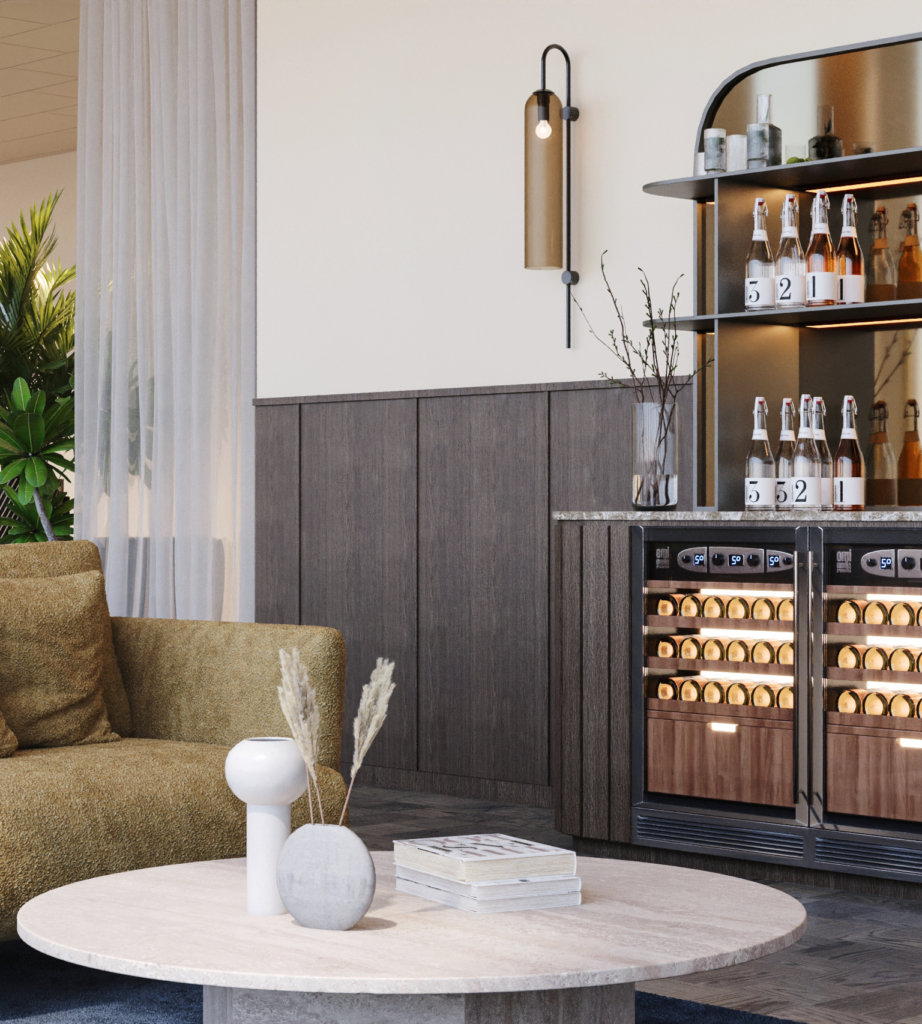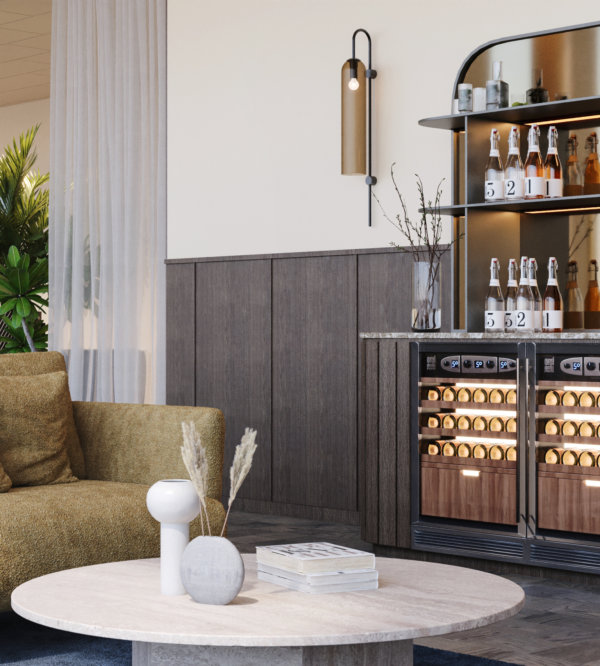 ---
1. Showcase those spectacular views
Is there any better way to "sell" a commercial property than with stunning views? It may be clear from an exterior image of a building that it's sure to have amazing views, but that's not the same as putting your audience in the room and actually showing them that view. Add people to the mix – because what interests people most are people – and you've just sold the benefits of those top floor spaces in milliseconds.

---
2. Location, location, location
We all know that location is one of, if not the most important selling point of any project. Demonstrating the location on a map is both informative and functional, but showing it from the inside, using landmarks and recognizable areas connects to people's emotions. Borrow the wow-factor from those nearby places, and just like that, your property goes from good to great. Who wouldn't want a workspace with a view of the London Eye?
---
3. Make the most of unique features in your architectural visualizations
You're just about to spend an unholy amount of money on restoring a facade to its original glory, or to build a staircase worthy of a Hollywood scene. Make sure those jaw-dropping features don't get lost in the grand scheme of things by showcasing them in the way they were meant to be experienced. And ensure it pays off at the bottom line.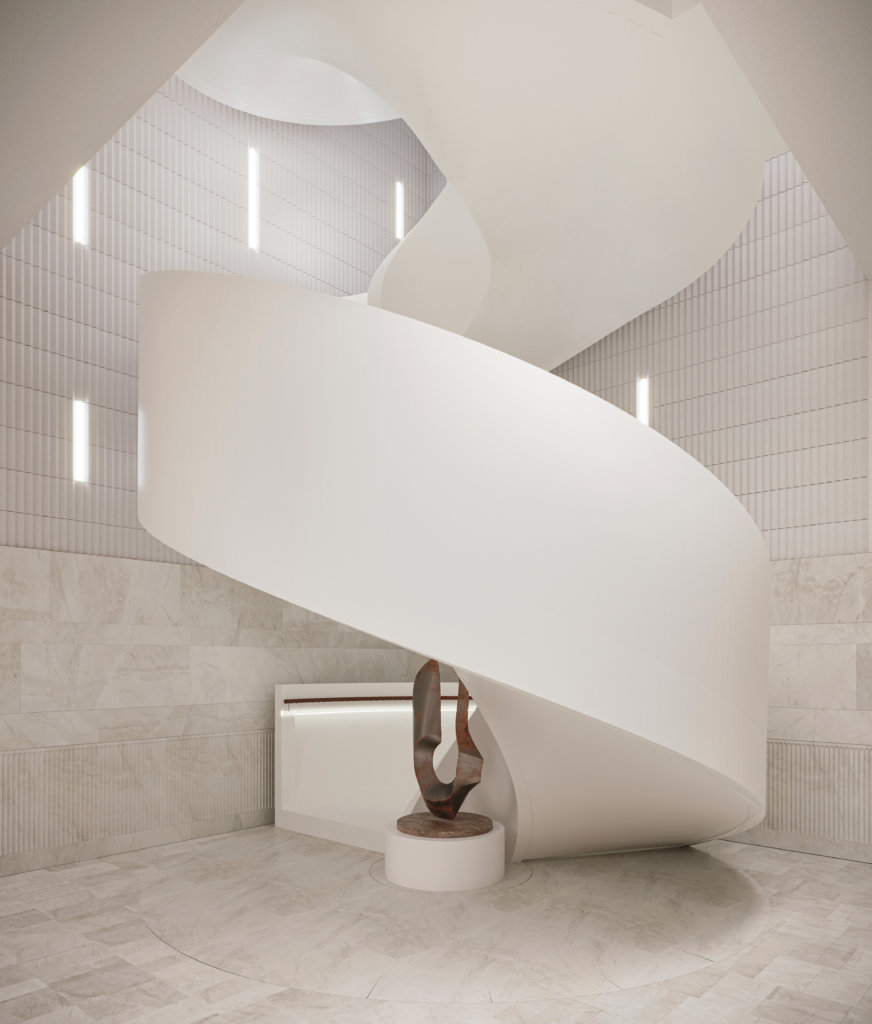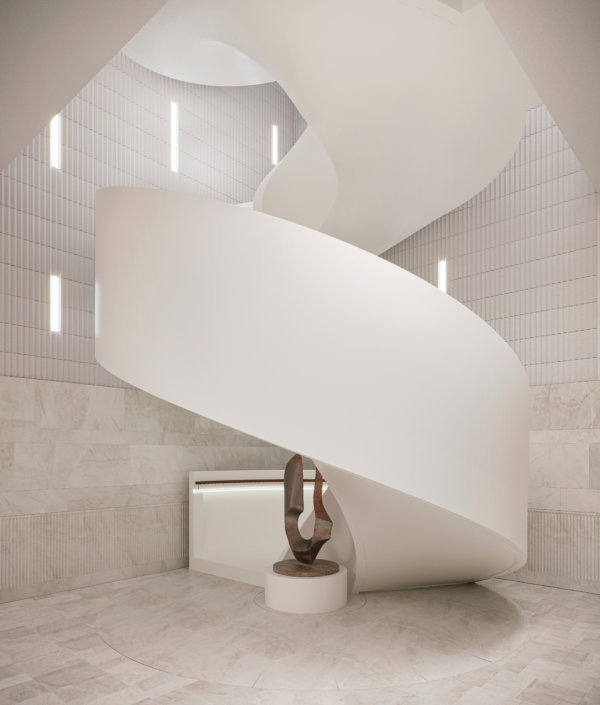 ---
4. Tailor property marketing to audience interests
It's notoriously hard to get people to read anything online, let alone interact with it. Part of the trick, of course, is to target your marketing to your audience's interests. Larger images need to appeal to a broad audience with a diverse set of interests, but zeroing in on the details can help you speak directly to a sub-target audience like retailers, restaurateurs, or co-working spaces. They'll appreciate you going the extra mile by taking their specific needs and wants into consideration.
---
5. Position the project using the right brands
By including brands and products that have the right associations, renders can signal the project's future potential. It roots the project in the area, supporting local brands, or appealing to the audience of the featured brands. Whether it's Apple, Four Seasons, or our local coffee shop, we all have brands we love. That makes us feel all the right things. Take advantage of that when marketing your property.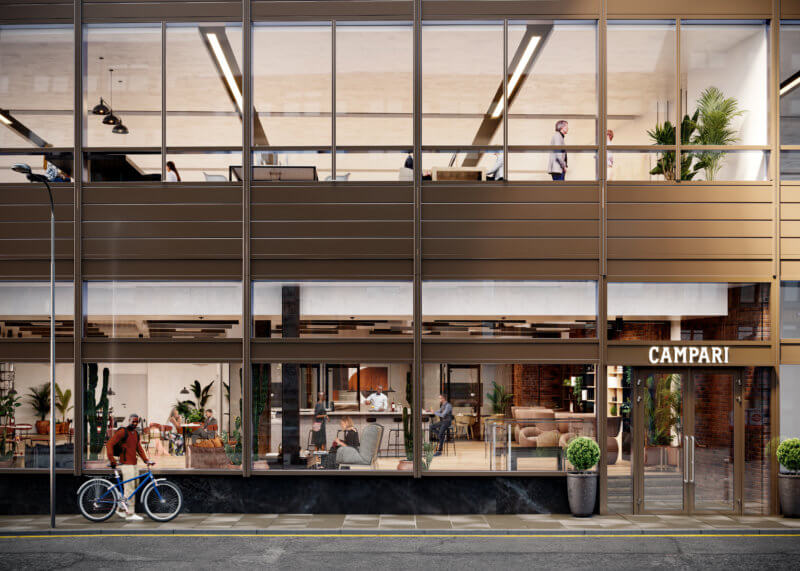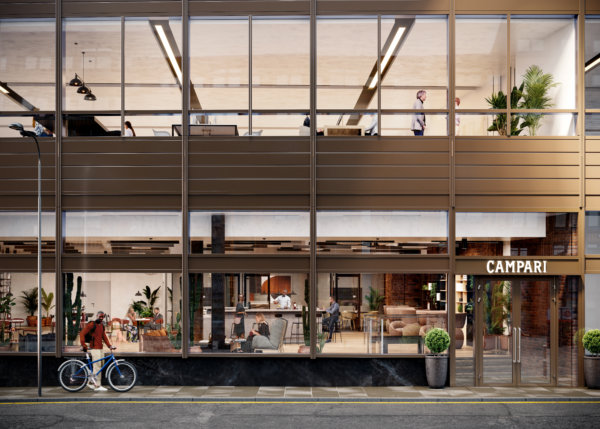 ---
6. Feature iconic designs
We're not saying everyone is a sucker for design, but we're kind of saying everyone is a sucker for design. Whether people are knowledgeable enough to name specific chairs or lamps, most people know high quality interior design when they see it. Using iconic pieces of furniture draws the viewer in by being equally familiar and desirable, and it paints the space in the right light.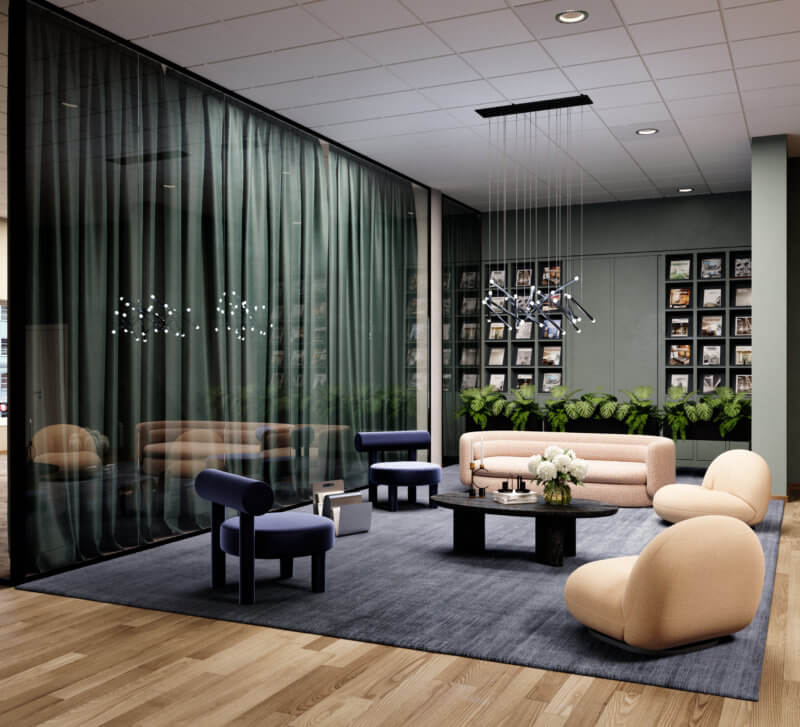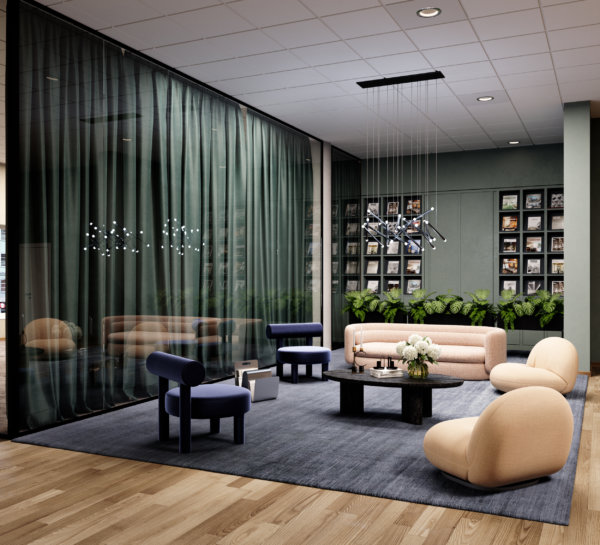 ---
7. Use strong shapes or colors
The human eye and mind navigates the (overwhelming) amount of impressions we encounter daily in a number of ways, but generally, we humans favor things that don't require a large amount of brain power, such as reading. That means that strong shapes and colors have a powerful effect on us in the same way "stop signs" do. By including strong shapes and colors in details, you ensure your image grabs your audience from the get-go.
---
8. Look for unique angles
A trick of the trade to optimize strong shapes and colors, as mentioned in the previous point, is to look for interesting angles and showcase them in your 3D visualizations. Those angles create a "What am I looking at? I need to figure this out." moment in the viewer and establish interest in the image. That's half of your job finished already.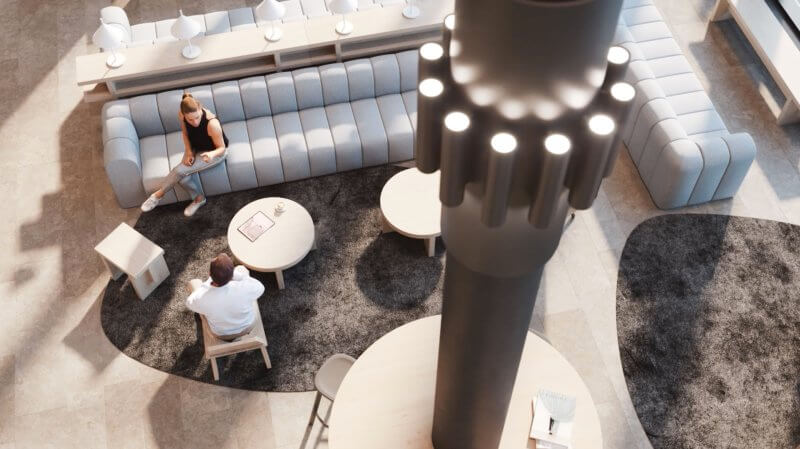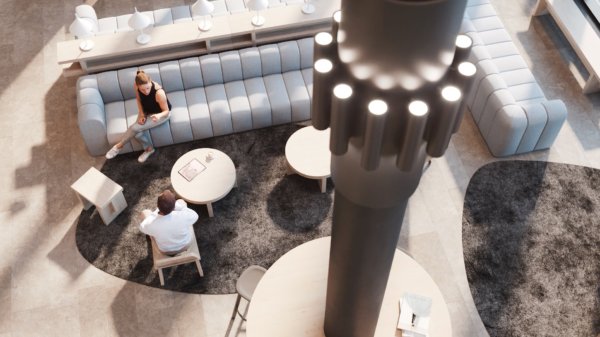 ---
9. Fine tune the atmosphere and ambience
Before we can even get to square meter price and desk capacity, the oh so important desire for the space must be established. Create an atmosphere or ambience so vivid that the viewer can almost touch it, and you've just sold a lifestyle (and a property). Be bold and be specific. It's better to be clearly cool, refreshing, cozy, or lively than to try to be a little bit of everything.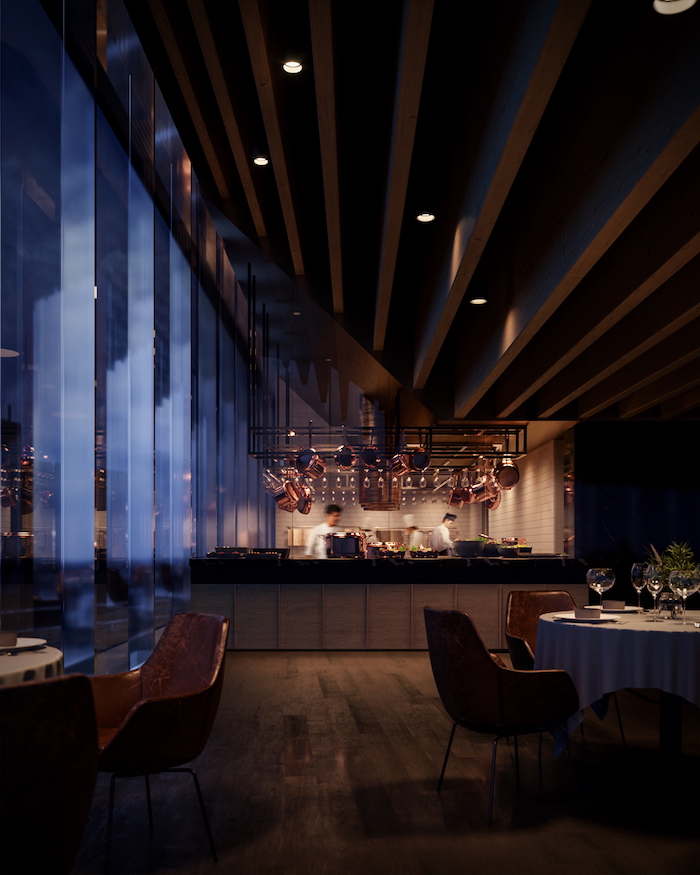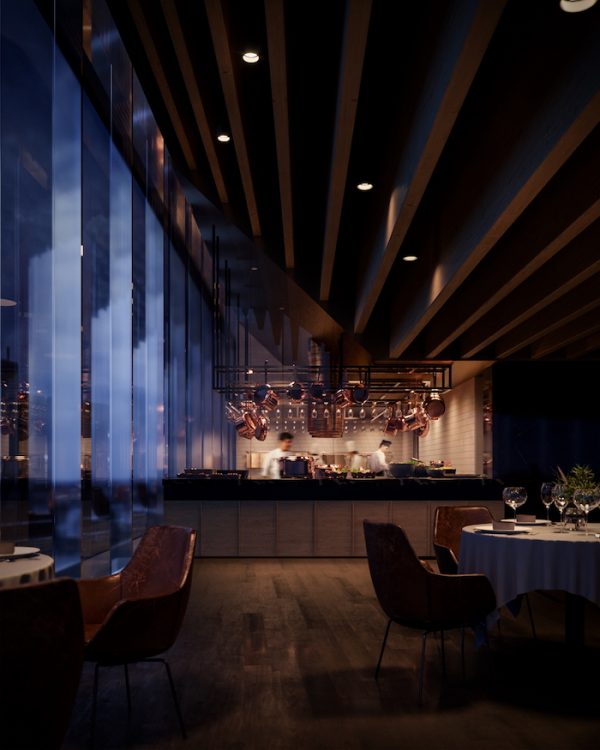 ---
10. Make it move
Animations can be costly, but there's also a nifty way of adding movement to still images that grabs attention on small screens. Make the color of a typewriter change from blue to red to green and back, and you immediately capture attention without it costing an arm and a leg. Complement it with smart copy and you've got yourself a great asset for your property marketing efforts! Better yet, include movement in a way that ensures your potential customer imagines just how your space benefits their business. 
---
11. Incorporate the latest trends
You know how the items worn on the catwalks of the most prestigious fashion brands are bought by few, but seen by many? And how that goes on to help them sell the white t-shirts or mascaras that often make up the bulk of their business? Well, we think of restaurants and bars as the catwalks of commercial real estate projects. The bulk of the building may be office spaces, but it's the restaurateurs and retail spaces that help build the perception and vibe of the building as a whole. Use those details to convey that the space will be the talk of the town, and your customer will understand that this prestige rubs off on the rest of the spaces and tenants as well.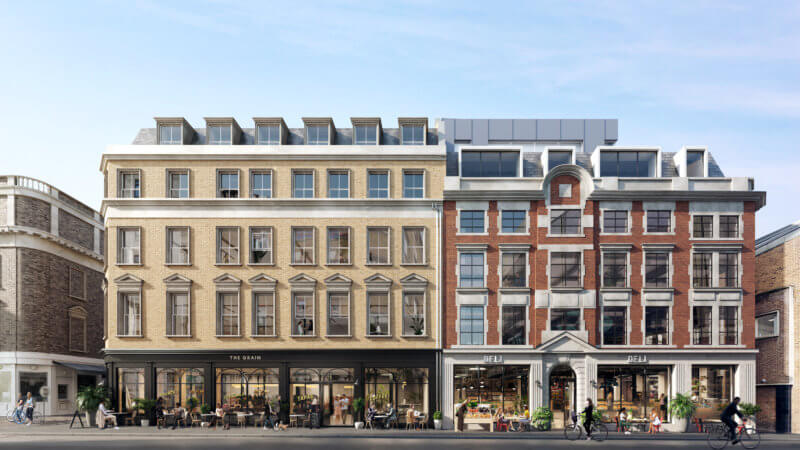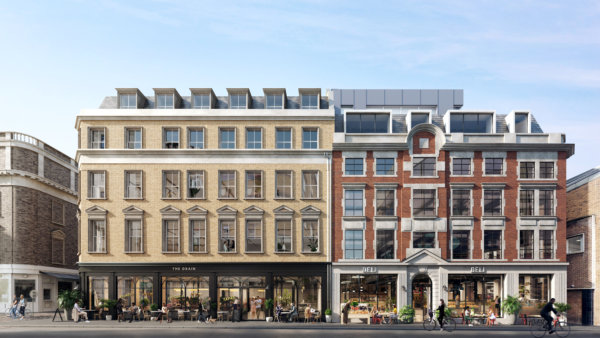 ---
12. Art for the sake of art – and business
Art doesn't require a reason for being, but in this context, it has one nonetheless. It's a good place to inject color in an image and create a focal point – without using strong color in furniture which may be polarizing or come across as too much. While it may not appeal to everyone on a personal level, it will most certainly capture their attention.
---
13. Employ inviting textures
Speaking to as many senses as possible is a way of ensuring that no stone is left unturned in the quest to attract the engagement of the viewer. Using highly tactile materials in the space, both in surface layers and in furniture, is a way to create ambient atmospheres without dimming the lights – especially useful in daytime places such as office spaces.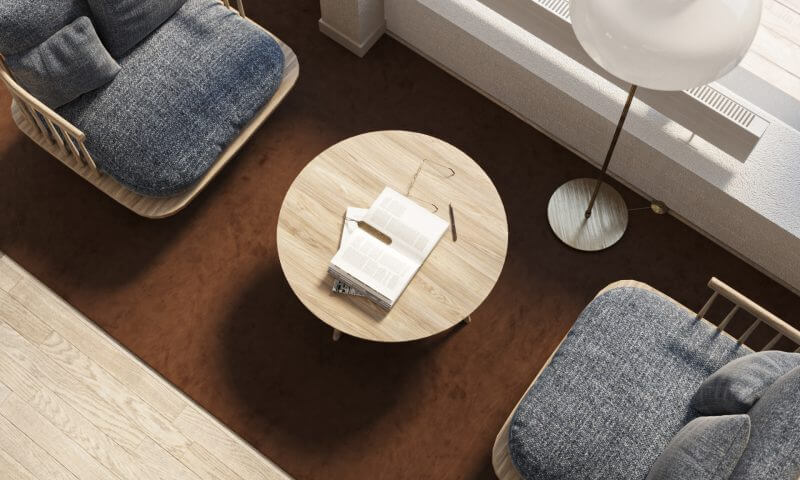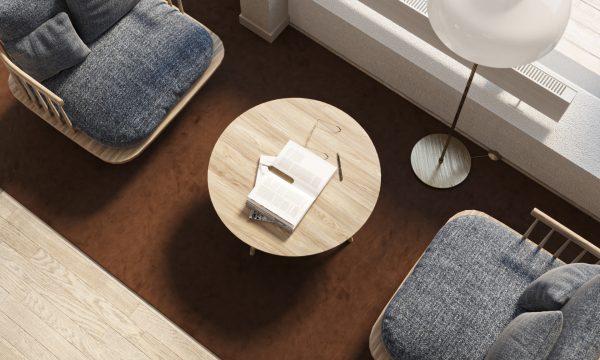 Ready to take your property marketing efforts to the next level by utilizing these tips? Get in touch to discuss your next project! We'd love to discuss how we can help you showcase your commercial property to your target audience on the right channels.
10 Beautiful Office Spaces to Inspire Your Next CRE Project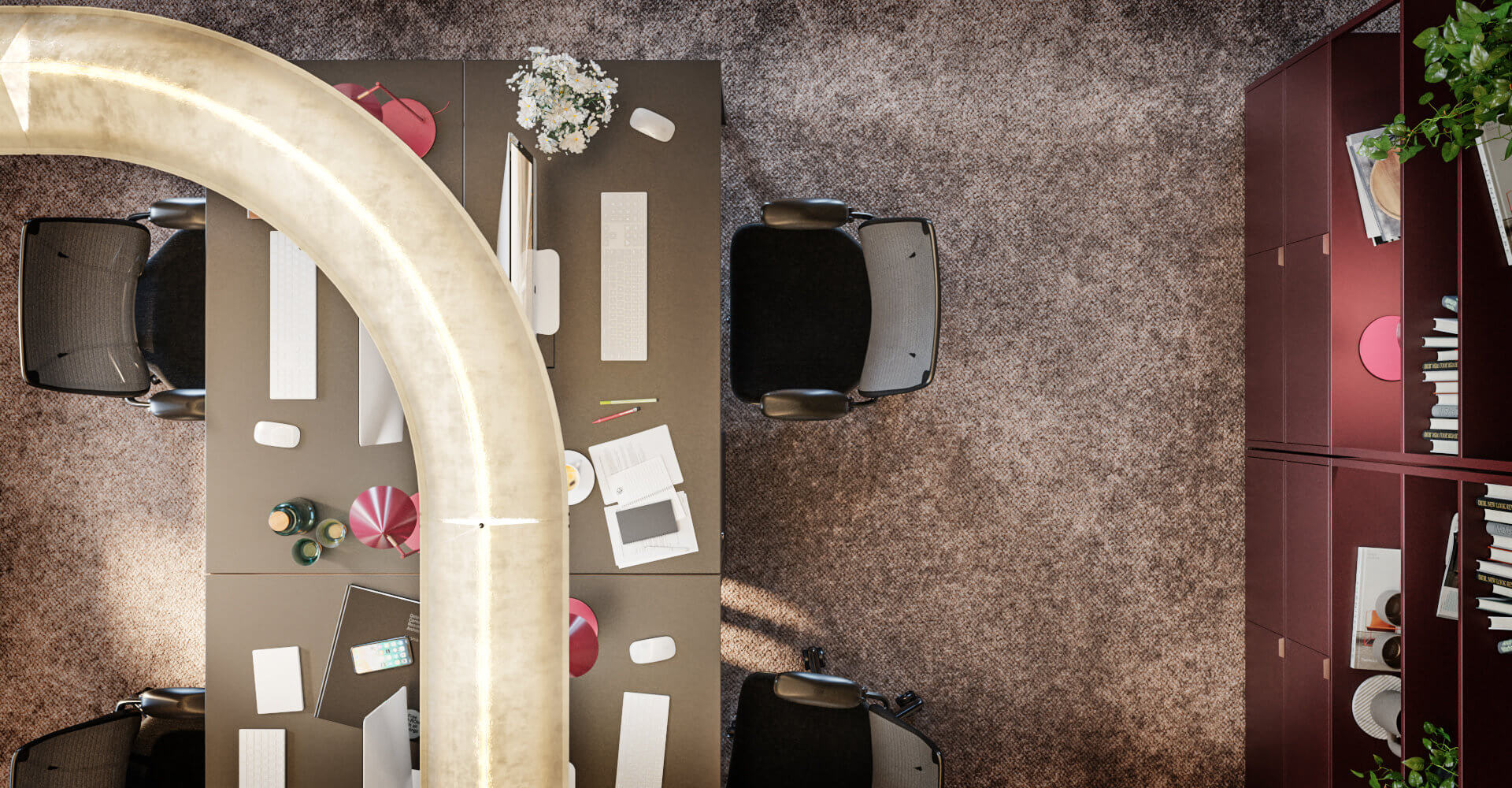 10 Beautiful Office Spaces to Inspire Your Next CRE Project
If you're looking for inspiration for your next office space project, you've come to the right place. There's nothing we enjoy more than taking our clients' visions and bringing them to life with high-quality CGIs and animations. Take a look at some of the office spaces around the world we've helped our clients visualize so they could turn them into a reality. We're sure you'll find just the right dose of inspiration here, and if you find yourself in need of a partner for 3D visualization, reach out to us for a personalized consultation. We'd love to help you showcase your unique property vision.
Spaces Chicago

Chicago, USA
Chicago is home to a buzzing business scene and the perfect spot for this co-working office by Spaces. The goal was to capture the energy and vibrancy of Chicago in a comfy and stylish space that would appeal to everyone from aspiring novelists to tech startup founders. Designed for peak productivity as well as a place to unwind and network with like-minded peers, this space has it all. What does it inspire you to do?
---
Finnslätten

Västerås, Sweden
Tenants of Finnslätten, developed by Kungsleden and designed by Tovatt Architects & Planners, are industry leaders and expect their office space to be representative of that. Industrial elements in the design reflect the aim to create an aesthetically pleasing and functional meeting place for future technological inventions. Finnslätten is a place where research, development, and production join forces to meet societal challenges.
---
Great Suffolk Yard

London, UK
Tailored Living Solutions' Great Suffolk Yard is a mix of contemporary office space showcasing a sensitive restoration of eclectic 19th century warehouse style buildings, where the very best of modern design meets the industrial charm, character, and personality of Southwark London. Thoughtfully designed by architecture studio TDO for today's discerning workforce, Great Suffolk Yard has brilliantly thought-out office spaces that will provide both functionality and inspiration to those who work there.
---
Sthlm 02

Stockholm, Sweden
The workplace looks a little different these days, and Skanska has taken that to heart with their vision for Sthlm 02. It's a place where style meets functionality and flexibility to create an office space that meets today's evolving needs. Covering 81,806 square feet over 7 floors, Sthlm 02 offers the opportunity to create an office environment with plenty of common spaces to inspire those who work there. Will they stop to chat with a colleague over a coffee in the chic café, brainstorm and develop ideas in the creative studio, or go straight to the green rooftop for some fresh air and a company yoga class. At Sthlm 02, anything is possible.
---
Linden Palais

Berlin, Germany
The Office Group (TOG) specializes in unique and beautifully designed co-working spaces around the world, and Linden Palais in Berlin doesn't disappoint fans of TOG. One of the most important aspects for us as the 3D visualization partner was to convey the architectural history of the building by restoring the existing elements – herringbone parquet flooring, detailed ceilings, wall paneling, and curved archways – that tell the history of the building. Linden Palais is a very special space where the historical meets the modern in an office space that is a pleasure to both work and hang out in.
---
Frösunda Port

Solna, Sweden
Situated right in the mix of Solna, the Frösunda Port refurbishment project takes aim at strengthening the area's identity both internally and externally. It will be transformed from a one-tenant house into one modern office building at the forefront, with sustainable solutions and common service functions for its tenants. FastPartner aims to revitalize the area, introducing modern amenities that will bring energized life to the people working there. Through the delivery of carefully positioned CGIs, we aimed to capture the magnitude of the eclectic mix of people and uses of the area.
---
Spaces Seattle

Seattle, USA
Creativity and beautiful brick buildings are abundant in Seattle, and this co-working office by Spaces utilizes both. Seattle is fast becoming a hotbed of growing startups, and Spaces Seattle offers a place for creative entrepreneurs and tech founders alike to flesh out their ideas and build their businesses. Brick and wood make up the bulk of the materials and give an earthy feel to this office space in a city synonymous with nature.
---
Liberty House

London, UK
Another co-working space from The Office Group makes our list of beautiful office spaces. Liberty House weaves together its creative heritage and iconic location to offer a vibrant place to work. Next to Liberty, the world-famous department store, Liberty House used to house stock and the employees of Liberty. Embracing the original character and charm of the space, we aimed to show it as it could be with restored original elements, such as the parquet floor, and reflect Liberty's history with patterns, fabrics, and pops of color throughout.
---
Vildmannen

Stockholm, Sweden
From the ashes rises the phoenix of Vildmannen. This beautiful work of art located in central Stockholm, once the spot of a historical fire that was visible the entire city over, has undergone a massive renovation by Hufvudstaden & their partners. From tragedy rises one of Stockholm's most beautiful office spaces to date. This new property is where cultural history meets the future. The opportunity to build something new from scratch inside a 120-year-old facade is very rare and working on these renders was a privilege.
---
80 Strand

London, UK
There are great office views, and then there's 80 Strand. 80 Strand is a London icon, with 156,000 sq ft of flexible floor space in a beautiful and iconic riverside building. Stunning Art Deco features complemented by light-filled contemporary spaces with riverside views, positioned at the heart of a world-class cultural destination make this a highly sought-after office space. Who wouldn't want a view of the London Eye from their desk?
Architectural Walkthroughs: Sell Your Commercial Property in Under 2 Minutes
Architectural Walkthroughs: Sell Your Commercial Property in Under 2 Minutes
What can architectural walkthroughs do for your business? Quite a lot. And it doesn't matter whether you're a property developer trying to get investors on board, a leasing agent trying to showcase your property's potential to a prospective tenant, or an architect trying to win a competition to design a whole city block. Architectural walkthroughs can do a lot of the heavy lifting for you. Why tell your prospective client about your vision when you can put them right in the middle of it? Ready to see how you can take your client on a visual journey and sell your property in under two minutes? We've put together a few of the flythrough animations that we've provided for clients to let you see the value they can add to your property.
Fully immerse your audience in the lifestyle you're offering
We all know what it's like to get lost in a great movie. To completely lose track of time and place, and to feel like you're right in the middle of the French Riviera or Middle-earth. You can give your clients exactly the same experience with architectural walkthroughs. After all, it's not actually sq ft we're thinking about when we buy a property. It's the lifestyle it can give us. Show your client how the natural light shines through the floor to ceiling windows. Put some books on the coffee table and pick the perfect chair to cozy up an office space. Add the perfect music, special effects, and camera movements to convey the right atmosphere, and it's easy to imagine living, eating, or working in a particular space. With this kind of visual storytelling, your clients are sure to fall in love with your property.
Showcase unique features with exceptional detail
What's that jaw-dropping feature that you know would sell your project all by itself if only your client could visualize it? Are you planning to restore all the original detail on a ceiling? Is your lobby going to be an oasis of green? As fantastic as we think 3D renders are, there are some things that will always be better captured on film. Walk your audience through your space and zero in the one feature that will stop them in their tracks.
Take your audience on a visual journey
Renders go a long way in showcasing your property vision, but 3D animations breathe life into your property. You can map out a whole visual journey and take your prospective client along for the ride. Show them each room as if they were walking through it. Give them a bird's eye view of the property before taking them along their daily route. What shops will they pass? Where will they stop for their daily coffee? Will they take a break in the courtyard and chat with their colleagues? How about yoga on the roof terrace at lunch time? Just as important as a journey through the spaces is transitioning from day to night, so your audience gets the full picture. This is when you can create that extra special moment. A view of the Empire State building as the sun sets. A morning coffee in the sun-drenched office kitchen. By creating a captivating experience for your audience, you'll capture their attention and speak to their emotions.
Walk your viewer through the surrounding area
With animations you can showcase interiors, close ups of design details, and much much more. You can take your viewer on a trip around their future office space or around the whole neighborhood. What could be more immersive than that? Take them from the tube to the lobby of their office. Show them the restaurant options for lunch. Or walk them through a nearby park. The possibilities are endless.
Demonstrate the size of the space and equip it in a matter of seconds
Renders are great, but when it comes to really conveying the dimensions and proportions of a space, architectural walkthroughs are the way to go. Instead of showing only certain angles of a space, you can walk your audience through each room, giving them a real sense of the size of the space and what they can do with it. Go even further by showing them the empty space and then quickly filling it. Not only will they understand the scale and dimensions, but they'll also get to see the potential of the space realized in a matter of seconds.